Jared and P.J., reunited at last!!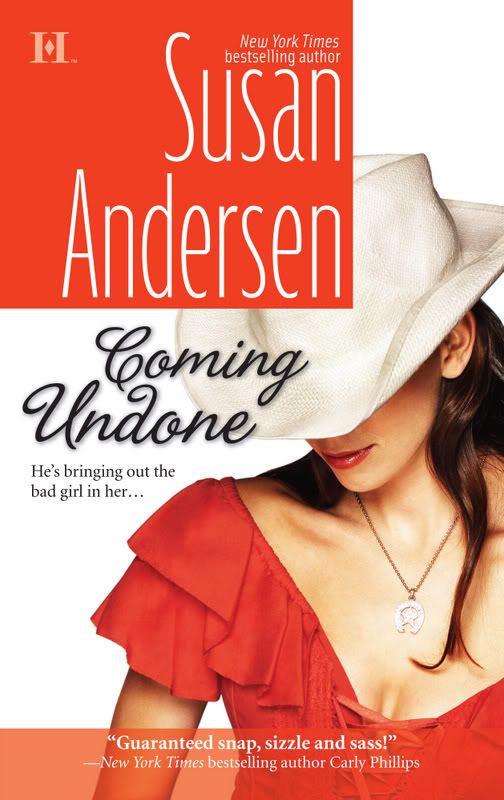 Lori:
It's coming! It's coming!

Susan:
Yep.

Coming Undone

.

Lori:
No! I mean, sure, that's the title of your MOST AWESOME book, but I meant that it's coming Tuesday to a store near readers.

Susan:
I know! Yaddadaddadadda, Yaddadaddadadda, Yaddadaddadadda, Wah-AH-um!

Lori:
Good gravy, what was that? Did somebody run over a cat?

Susan:
Um, no, that was me singing. Okay, poorly, I admit, but you gotta cut me some slack here--I'm totally jazzed about

COMING UNDONE

but I'm also dragging my tail. I just finished my newest effort,

CUTTING LOOSE.

And I do mean

JUST

finished--like five minutes ago. I'm a little rummy.

Lori
: Trust me, I know that feeling well. Still, do us all a favor, okay? No more singing.

Susan:
:::Sigh::: Okay.
Lori:
Especially not while I'm trying to tell readers how they HAVE to get this book. Delish. Just plain delish. Everything I'd hoped for and more.

Susan:
Now see, that rejuvenated me. So you liked it?

Lori:
LIKED IT? I LOVED IT! And that means mega-talent on your part, because we all know how it is when readers are hankering for that highly-anticipated book. And I have been hankering, as you well know. P.J. stole my heart when I first read her in HOT & BOTHERED. In fact, I think that's how we first met.

Susan:
Yep. You wrote me, demanding to know whether or not P.J. would be okay, because you didn't want to finish HOT & BOTHERED until I reassured you. :::rolling my eyes:::

Lori:
Sorry, but I just loved P.J. and Jared. And I was afraid for them both. But oh baby, what a payoff!


Susan:
Thank you again!

Lori:
So why don't you give readers the scoop on what happened with those two, so they can feel reassured, too.

Susan:
Sure thing. Jared went into business with Rocket, the former Marine who became a PI. He was the hero of Hot & Bothered.

Lori:
Oh, baby! Come to mama! :::Clears throat::: Sorry. But I LOVED "seeing" Rocket and Tori and Esme again. That Rocket is just as hot now as he was in his own book.

Susan:
Take a deep breath here, girl.

Deeeeep

breath. You gotta calm down.

Lori:
I'll try. But this book was so seriously good -

Susan:
:::laughing
giddily
::: Talk about making my day, Lori! Anyway, when Jared joined Semper Fi Agency, they expanded the business to include personal security. And on the P.J. front--well, she's really come a long way from her trailer park days with her mama. She's a rising country music star, known by her first and middle names: Priscilla Jayne.
Lori:
Way to go, Peej! I have to tell you, Susan, it was like watching my little sis grow up and come into her own. I LOVED how P.J. matured, and how she still stayed P.J., that is, the girl with the edge, and the girl with that heart-wrenching touch of vulnerability.

Susan:
Oh, bless you, bless you! She was such a special character for me in both books, and it means a lot that you felt she was special, too. In

COMING UNDONE

, P.J. is about to begin the biggest concert tour of her life, one with the potential to really catapult her career. That's the good news. The bad news is, it's kicking off in the midst of a huge scandal.

Lori

:
:::SNORT::: Bout damn time, if you ask me. I remember what happened in HOT & BOTHERED, so I'm glad she canned her good-for-nothing mom!

Susan
: Me, too. But Mama's talking trash to the tabloids and now Wild Wind Records, Priscilla Jayne's label, is getting very nervous about her reliability.


Lori:
Which--hello!-- is where Jared comes in. Sweet!


Susan
: Yep. They hired Semper Fi Agency to supply a watchdog for their new million dollar baby to make sure she gets to her concerts like she's supposed to.

Lori:
Stupid people. It's not like P.J. has been unreliable in the past and they can't trust her to get herself to them.

Susan
: I know! She's never missed a performance in her life.


Lori:
And that's why I KNEW Jared would eventually set them straight in a big way.


Susan
: Yeah, but it took him awhile, because Jared hasn't seen P.J. in fifteen years. And I don't know if you remember this, but she sort of disappeared out of his life.


Lori:
Remember it??? It broke my heart! Of course I remember.
Susan
: And then there were those reports of her being difficult to work with, which were bandied about by her first label.

Lori:
Right. And at first, I was a little disappointed in Jared for not defending her quicker. But hey, he's my very favorite kind of hero --a conflicted one. :) And given his story in HOT & BOTHERED, it's no wonder that Jared has some trust issues.


Susan:
Very true. But he also had that phenomenal connection with P.J. when they lived on the streets of Denver together.

Lori:
:::Sigh::: Yeah. They were so clued in to each other. That's why I was so anxious for this story, and why it is SO satisfying.

Susan
: So you feel that Jared redeems himself?


Lori
: You betcha! And that's before the Fundamentalist Whacko Fan starts sending Priscilla Jayne letters...

Susan:
Shhhhh! You know what P.T. Barnum said: Keep em coming back for more. At least I think it was P.T. Maybe it was somebody else. Or maybe I just made that up. (
Toldja I was rummy).


Lori
: Well, I'll just wrap this up then by saying that I LOVED, LOVED, LOVED this book, and you deserve a good long break now. Rest up – before I start begging for the next one. Um, what did you say the title is again?