RT Con - the Good, the Bad, and the Ugly
I love Romantic Times - the magazine, the advertisements, the support of authors and readers. Usually I love the convention. Please understand that this blog isn't meant to belittle anyone or anything. A few bad impressions can sometimes spoil all the good impressions. And I really have no idea how much of this was in RT's control, approved by them, or just happened.
But now, since it DID happen, I'm really, really curious what YOU think.
From Thursday to Sunday last week, I was at the Romantic Times Booklovers Convention in Pittsburgh, PA. In many, many ways, I had a FABULOUS time. In some ways, I was beyond frustrated. In other ways, I was outright shocked.
Because this is a convention meant for readers and authors to connect, I'd like to get reader feedback. I hope you'll take a moment to share your thoughts.
First, the good!

For me, most conventions are a way for me to reconnect with authors and readers I seldom see except when we're both at an event like this. It's cool too that I get to meet new authors and readers as well.
And even more fun, I get to hook up with booksellers from far away.
The photo shows the oh-so-lovely Australian bookseller, Rosemary Potter (in yellow) with new to me booksellers from Perth on either end. That's me in white.
Isn't it grand that these dedicated ladies will travel so far for the books they love!? More than worth a trip to the convention. I signed a LOT of bookplates for them to take back to Australia with them.
Authors friends I got to see - first Holly Jacobs, who will usually sweep all into "Holly world" where it's fun and carefree. Then the hilarious JC Wilder, who I adore, and her friend Isabo Kelly. (Thanks to Linnea Sinclair for this terrific shot of JC and Isabo!)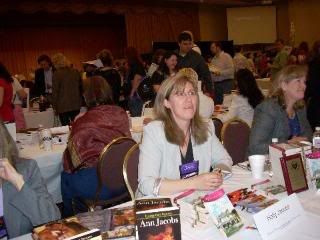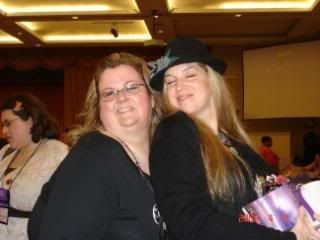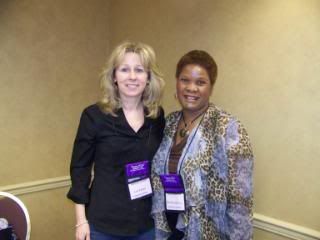 Next up is me with Brenda Jackson. Man oh man, do I adore Brenda! She's one of those ladies you talk to, and you immediately feel like you've known her forever. She's very humble about being a big star, and very nice. Last is Maddie James and Marcia James - part of the "James gang," as Marcia calls them.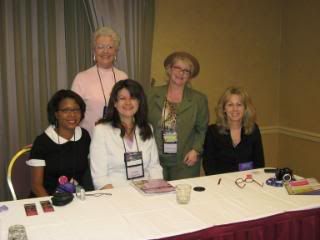 I also did a panel for the convention, which allowed me to hook up with two author friends, and two new to me authors.
I'm on the far right in black.
On the far left, front row, is Ann Christopher and Lori Wilde, good friends and lovely ladies.
Sharon Sala and Christie Craig are behind them.
I felt like a lump in that very professional panel as each author explained aspects of her writing. You see, I can't explain what I do as an author. It just sort of happens for me (thank heavens!) and I'm unable to dissect it.
Other new to me authors and readers...
First, fabulous reader Annie, who was gracious enough to take part in a special video gig that Lifetime.com did with me, then amazing author Jacqueline Frank who I knew all about, but hadn't yet met!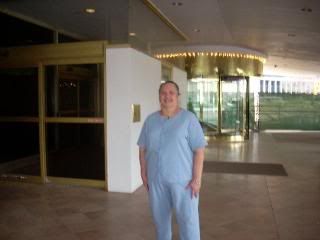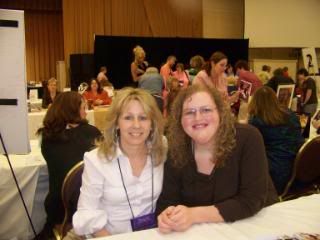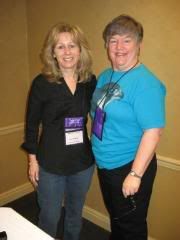 Author Jaide Fox sat next to me at the signing and kept me entertained during lulls. What a nice lady, and her mother and sister are authors too! Amazing. Deborah Barrett was one of the super-nice readers I got to meet in person after the author panel!
Speaking of Lifetime.com and videos... I had a blast taking part in a special video they organized where they taped readers getting their books signed by me, then "surprised" one mega nice reader by leading us both to the hotel restaurant for a one-on-one visit.
On camera.
With lights and direction...
Can you say conspicuous!? LOL
The wait staff and attendees were all SO curious. An actress I'm not, but Regie, the reader who had an adorable twin with her, did GREAT! And Evan, the producer, was so nice and easy to work with.
Here's Regie during the signing, and at our little surprise, Evan and his audio guy at the signing, and then all of us together!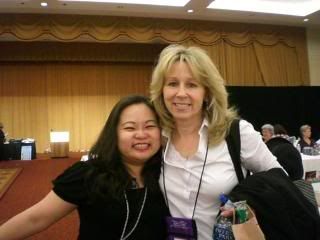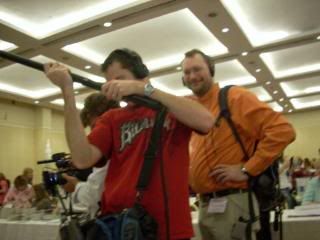 Here's the link to a quickie, spur-of-the-moment video I did for Barbara Vey and Publisher's Weekly. Man, when I see stuff like this, I realize I'm all off kilter! LOL. My nose is crooked, and I talk out of the side of my mouth! I KNEW I had that country twang, but I didn't know how I looked utilizing it. LOL
Anyhoo, here's a quickie (20 sec, I think) video of me touting my and Dianne's event during the bookfair!
http://www.youtube.com/watch?v=0_MJF1VTL04
Then there was the harmless, and entertaining fun!
Costume balls!
I've never attended - I'm not much for dressing up and I was too busy this time anyway with a lot of video interviews, regular interviews and shuffling back and forth from the overflow hotel and the conference hotel.
But these ladies took part, and didn't they look stellar!?
First up is my reader friend, Billie Jo, and then author friend, Tiffany Bryan in faery ball costumes. Next, authors Kathy Love, Erin McCarthy and Tiffany again at one of the galas, and then Tiffany for the vampire ball.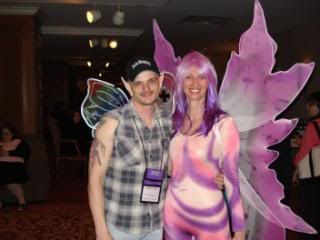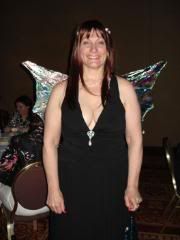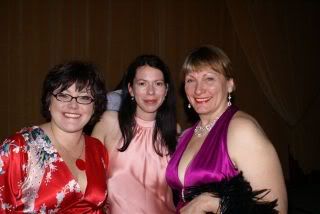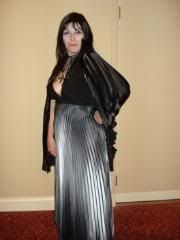 I understand that the vampire and faery balls are very, very popular with readers and authors alike. Everyone who attends them has a FABULOUS time.
So I'm curious... as a reader, is that something you'd love to take part in? Would you enjoy dressing up and being out late and hanging with friends to see their different costumes?
Or would you do like and dash into your room during those events?
Please note - I USED to hang in the lobby to see the awesome costumes as they went by. But being that I was in a different hotel this time, that wasn't really possible. :-(
I felt like I really missed out!
Oh yeah, on top of seeing great costumes, I also love to see everyone's jewelry. So many attendees have their own distinctive style, and it shows in their jewelry. I saw soooo many beautiful pieces this year!
Anyway, back to the balls... I think most of these events lasted late into the evening, so the hour also dissuades me. I'm too old to frolic past 10 P.M.
LOL. The most I can manage is a meal with friends before slinking off to my bed and an attempt to sleep.
And speaking of meals with friends - I had a wonderful prearranged breakfast with good friends Kathy Andrico (front left) and Daphne Wedig (back right). In the pink is author Jenny Gardiner and next to me in green is reader Jennifer Allison.
Kathy, bless her, saved me numerous time throughout the convention. I owe her personal assistant pay for sure! She went above and beyond in helping me in everything that I "suddenly" needed. I owe her bigtime!
(BTW, Kathy is also the one who takes the photographs at my and Dianne's June Event.)
I also had dinner with Michelle Buonfiglio from Lifetime.com's blog, "RomanceB(u)yTheBook." It was fabulous! Great food, and good company with Ann Christopher, Marjorie Liu, and Eve Silver. It was the first I'd met Marjorie and Eve, and they're such terrific ladies.
So there were some real highlights about the convention - namely friends old and new, good food (I really liked the one convention meal I was able to gnab) and the fun costume parties.
But this leads me into some of the
FRUSTRATION
.
I registered for this convention some time ago. The way it's set up, you have to register for the convention and the hotel through the RT site. It's one of the most expensive conventions I attend. Between the hefty conference fee, airfare and hotel, I spent well over $2000 for this, so you sort of go into it... expecting certain things.
Silly me.
First off, I got bumped from my room. How, I don't know, given how early I registered. And then later I found out that some attendees had registered AFTER me and still gotten a room.
So... go figure.
I got a call from a very nice person at RT during a dinner with friends, and because I had friends over, I only caught some of the details. The gist of it was that I MIGHT be bumped, but if I really truly needed to be in the convention hotel, I should call an RT rep. Well, I tried contacting people, but didn't get a response.
I had stuff lined up left, right and sideways, and NOT being at the hotel was unthinkable. I called the hotel the day of my flight, and was told I'd have to speak to someone in management, and was on hold about 10 minutes before I gave up and decided to take my chances.
I arrived at the hotel, tried to register, and was told - I'd cancelled.
Which I had NOT done.
The big problem here is that everyone who had a meeting with me on that Thursday was also told I'd cancelled. Naturally they filled my appointment slots with other appointments.
Understandable for them, given the circumstances. Not so understandable as to why RT would cancel me.
I ended up rearranging many things for Friday and Saturday, even though those days were already jam-packed with stuff. I literally only had time for coffee in my room, and dinner late at night.
In fact, I barely had time to breathe all weekend, which deducted a lot of the time I would have otherwise had doing what I like to do most - mingling with friends old and new.
Needless to say I'm not at all happy about any of this.
Let me explain more about WHY it mattered so much to me.
Everything is in the conference hotel, and the convenience of being able to dash to your room to freshen up is crucial, especially with back to back interviews - all interviews I WANTED to do and was grateful for, so I'm not complaining about that. But I needed to change in between, needed to touch up my hair and such...
To make up for that lack, I was told the Hilton would supply a shuttle back and forth. The hotels weren't all that close, but... yeah.
Forget the shuttle.
Sometimes it took up to 45 minutes for the shuttle to get to me. Other times, because there was only ONE shuttle apparently servicing the entire hotel not just the convention, I didn't get a straight trip to or from my hotel. I got taken to the airport, the bird aviary, shopping... sometimes as much as a half hour out of my way. Not the fault of the other attendees! They were in the same boat as me!
But I never knew how much time to allot to get from one scheduled event to another, because I never had any idea how long it'd take for the shuttle, or if it'd be a straight trip.
I gave up on the shuttle and relied on the cabs, which were easier to get, but roughtly cost $10 each way. I spent a LOT of money on cabs.
So... wouldn't you have been peeved, too?
I hate to think I'm a stick in the mud, but c'mon!
Then there's the conference hotel, which truly looked more like it was under demolition than remodeling. I can not believe a convention was scheduled in such a pit.
I kid you not - there was plaster dust THICK everywhere. Some of my friends (most of whom are still coughing with sore throats) said they had to dust off their hangars before they could unpack. One friend said her room was still wet with paint!
I saw many doors that had a paper taped on the outside to show the door number. Some papers fell, got thrown away - and then, no door number!
A lack of door frames meant that everything said in the hall could be heard in the room, and vice versa. It was almost like the door stood open, everything was so clear and LOUD.
Many of my friends had their towels and toilet paper sitting on the floor because there was no means to hang them. No towel bars, no toiler paper roller. Is that not insane???
I know of at least one person who didn't even have a shower door/curtain and had to keep mopping up the water from the floor.
The 6th floor was missing some ceiling. Some hallways ended with a half-hanging plastic barricade with dangerous tools on the other side. I swear, it reminded me of a horror movie where the lunatic always has a weapon at hand. Go beyond the plastic and grab up a saw. Or hammer. Or nail gun!
The carpets and walls in common areas were layered in grime and dust. If you leaned on the wall, you got dirty.
To my recollection, the rooms were $120 a night or thereabouts. I've seen better, cleaner rooms for $49. LOL
In comparison, the Omni, where I stayed, was lovely. Just so, so inconvenient.
So as a reader, would any of that matter to you? Or would you shrug it off and wallow in the fun of the event without giving the other stuff a thought, regardless of what you'd paid?
And now...
On to the
UGLY
.
This is the part I'm MOST curious about.
All of you know I'm not a prude. Not by a long shot.
And I'm not the moral police either, so to each her own. If what I'm about to details is your thing, more power to you. But I'd like to know how many really are into it, and how many aren't.
I guess what I'd really like is an overview of what it is readers look for in a big convention like this.
For instance, a few of the male models put on display were... crude. Very, very crude. To the point of being obnoxious and offensive.
After a military tribute ended, a strip show began. Yup. Stripping.
I don't think anything was actually shown (other than female breasts, which somehow got loose from clothing) because (are you ready?) much of it happened behind the American flag.
The. American. Flag.
I'm a huge supporter of our troops, and to think of our flag used as an accoutrement to a strip show... well, yeah, not my thing. In fact, it made me a little ill.
This was the tribute?
To who!?
One model (Part of a separate publisher party, not one of the RT models) was supposedly arrested 3 times over the weekend. (Check out J.C. Wilder's blog for more on that fiasco.) The "cavemen" as they're called, were embarrassing for many.
Simulated oral sex on a stage. Um, no thank you! Not my thing.
Manhandling, womenhandling (Depending on who initiated what.)
Feigned acts of intimacy... I mean, I KNOW I'm old, but I thought that sort of public behavior was horrid when I was young!
I'm not a person who feels compelled to run around defending the romance genre. Folks either get it or they don't.
People, are we TRYING to make them think the worst of us?
Do we want them to think we're all sex-starved, uneducated housewives just waiting to go wild?
Or, as I'm starting to wonder, is RT a mix of romance and something more? I know it's called "Romantic Times," but these days, maybe it's more "Erotic Times?" (Again, no insult to erotica authors or publishers. I respect all writing talents.)
But if that's the case, as a romance author, I've stepped into the wrong zone.
Like I said, I didn't attend the parties. But I didn't have to. There was the stuff happening in the hotel bar, elevators, etc... I saw more than I cared to.
Groping.
Lots and lots of groping.
Right out there in the open for all the world to see.
Anyone not involved in the convention surely has the wrong impression of romance readers and authors. At least from my perspective.
What about yours?
Would you enjoy seeing some stripped down (most were shirtless) buff male models in a competition?
Would you enjoy seeing MORE models (some of them professional strippers, one reputed to be a porn star) being openly fondled and oohed over by women?
Here are some photos (thanks to Linnea Sinclair for sharing!) that show the cover models. These are, I'm pretty sure, from the RT cover model contest where folks voted on their fave. All good clean fun. After all, we DO have gorgeous male models on some of our covers.
The problems happened with the Cavemen, not these guys.
I just thought I'd close out this long-winded blog with some more photos. :-)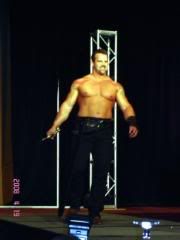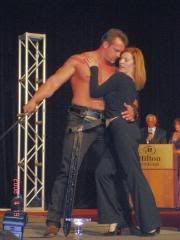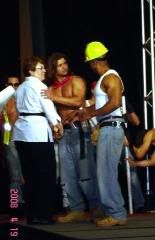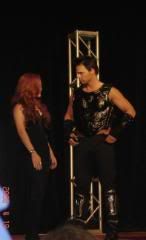 Nice looking guys, right? And they were! Very nice. If there are to be cover models mingling around, let them be nice, well-manner guys.
PLEASE no stripping, groping, or pretend sex.
But that's me, so I'm asking you - readers and authors alike - what do you think? Is this your type of thing, or has the RT convention gone overboard?
If you could dictate the convention, what would you get rid of, what would you have more of, and what would be your FAVORITE and LEAST FAVORITE part of a reader & author event?
If you're to the end, then THANK YOU for reading through my long vent, and please share your thoughts.
My best to all!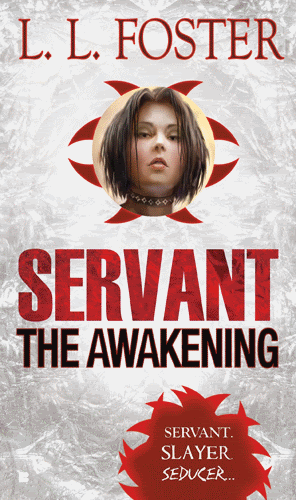 Lori Foster
also writing as
L.L. Foster
http://www.lorifoster.com/
http://www.llfoster.com/
lorilfoster@gmail.com