Book taboos... what are yours!?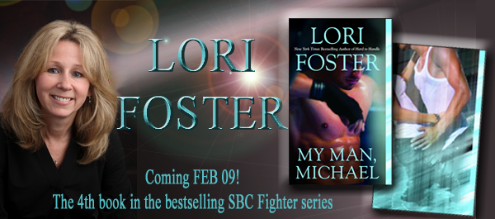 I have a new book out - Jan 27th release date - and I'm not sure how it'll be received.
Some readers are already letting me know that it is very TABOO to change paths in a series.

Now, I didn't change much, I promise!
I have my SBC series...
...that each features a fighter.
Again, let me stress that the books are NOT about fighting, but rather about a fighter in a romantic relationship, how he balances the grueling workouts, the dieting, the travel and promotion schedule - with love.


So anyhoo... the first three were straight contemporary. No problem, right?
But my 4th book, MY MAN MICHAEL, which features Michael "Mallet" Manchester, takes a wee trip.

See, the book opens with Michael in a hospital. He's been in a wreck, his legs are badly damaged, and it's going to be a struggle for him to walk. Never will he be able to fight again.
Tragic huh?

Unless I get to play! And I like to play.
Or rather, my muse likes to play.
I honestly just trust my muse and go wherever it takes me.

This time it took me to 2220.

BOOK OPENING...
Morning brought the sounds of muted footsteps, soft chatter, and the rattling of trays and machines. Life disturbed the quiet that had settled over the hospital during the long night. Unshaven, sullen, bordering on depressed - though he'd never admit it - Mallet shifted, and winced in pain.

All that had happened still seemed surreal – except for that awful pain. It was real. Very real. Dawning sunlight flickered through the frozen layer of lacy frost that climbed the bottom of the window, blocking a dull view of the parking lot. Mallet stared at it, brooding, wishing for a change.

For uplifting news.

It was futile, and he knew it – but he wouldn't accept it. He couldn't.

Tomorrow they would release him from the hospital – and a few days later, he'd be expected to start therapy to learn to walk with only one good leg.

Closing his bloodshot eyes and swallowing around the pain left in his throat from the resuscitation tube, he considered his destroyed future. How could everything change so drastically in such a short time?

In the last four years, he'd made a strong name for himself in the SBC. At twenty-six, he was considered a major contender in two weight classes, and one of the most feared competitors in the sport. In another month, he would have fought – and won – the title belt.

His hands fisted. His jaw flexed and tightened.

Thinking of the wreck brought an invisible weight to his chest, crushing his lungs.

Crushing his legs.

Through closed eyelids, he saw it all, felt it and smelled it and relived it again and again. Flashing lights, metal grinding against metal, the acrid stench of burnt rubber as tires squealed and brakes ground without success; the lash of the seatbelt cutting across his body, trying in vane to pin him in place.

The impact of the wreck sent his brand spanking-new, shiny black sport's car turning and tumbling like a snowball going downhill. Each flip had compressed it more, disfigured it, destroyed it.

Only when it slammed into a concrete wall did it finally stop.
With Mallet trapped inside.


Oh man! POOR Mallet.
Heartbreaking, huh? Well, at least I thought so.


BUT THEN...
"I've never seen anyone sulk so much."





Startled, because he'd thought himself alone, Mallet looked toward that deep, melodic voice and found a slight woman sitting in front of the frost covered window. Or more like... she perched, butt and feet both on the window shelf, bare arms crossed over her knees.





At either side of her, colorful flower arrangements, sent by fighters' wives, made a bizarre frame.





How had she gotten in without him noticing?





Palest blonde hair in a deep side part hung straight and baby-fine to her shoulders. Large, heavily lashed hazel eyes studied him.





Bemused, Mallet looked her over from her odd positioning against the window to her long, lithe limbs, to a mouth that defied description.



Only in a fantasy, his fantasies, had he seen a mouth like that.



"How'd you get in here?"




I'm not giving anything away to tell you that she came to fetch Mallet, to take him to 2220 where he'll be whole in body, and very much needed - to train the fighters. Female fighters.
And Mallet being a big old macho guy and all, well yeah, he wants to protect women, not teach them to protect themselves.
But it's important to Kayli, so he tries to adjust - because she's quickly become important to him. Let me tell you, each of them has one wing-ding of a time adjusting!
I don't think I've ever had so much fun with a book!
Researching the future was a blast.
Writing women who can kick ass because that's what they're expected to do was a blast. I personally love this book.
To me, it reads with the same voice I inject into all my books. It's still a story of a sexy romance, still about family and community, still about Alpha guys and strong women, but... yeah, with a few twists.

So here are my questions:

The fact that I left contemporary for somewhat futuristic... does that irk you?

Will it keep you from reading? (You can tell me! Promise!)

Do you consider changing "paths" in the middle of a series, even a loose series like this one, to be a no-no?
What are some of YOUR taboos?

I had readers who were "WTF" about it. (You should know what that stands for, but if not, let me know.) There was a whole blog thing about it, with several readers sounding plenty irate.
Now understand, readers are important to me! They don't direct my muse, which does it own thing, thank-you-very-much. But I do care about their feelings. I wanted to reassure folks at the "WTF" board, AND let them know that it's okay to complain, at least it's okay with me.
Readers get very invested in stories and they care. If they didn't, a lot of authors would be out of business. But I really, REALLY hoped to reassure them that what they usually liked about my books was still there.
Some readers wrote to me to say, "What's wrong with two humans having sex?"
--- I wrote back that they were definitely BOTH human! LOL

Another angry reader emailed that she wouldn't read about robots "getting it on."
--- Um, yeah, no robots boffing, I promise.

And yet another reader was really, REALLY peeved that I went paranormal with this book.
--- Is time travel paranormal? Not sure. I just apologized for letting her down.
Do you consider TT paranormal? Or just... TT? I always thought the two were very different, distinct sub genres.
That's it about that topic. I don't want to anghst over it when the results will be in soon enough. :::Gulp:::

I have a very love/hate relationship with new releases. LOL. I LOVE having a book finally hit the shelf, but hate the pressure of it doing well.

Lastly, just for fun, I want to share some cool promo stuff.

BILLBOARDS:




The guy standing up there is hanging the billboard vinyl. My husband took the pictures, and I chose this one to give a perspective on how big the thing is.

MAGAZINE STUFF:




That gold emblem says, "MMA Book of the Year," awarded by TapOut magazine.
LOVE TapOut magazine - obviously.
They also mentioned me on the cover, which was cool, and did an "exclusive" interview inside the magazine.
The book will also be in OK and Star magazines.
What kind of promo do you notice about books? What grabs your attention?
Yeah, I'll shut up now! And here I thought this would be a super-short blog. LOL
HUGS to all of you!