Holiday Giveaway!
Baby, it's cold outside!
How was your Thanksgiving Day? I hope all of you were warm and cozy, gathered with friends and/or family, eating, laughing, and having a good time.
Usually we do Thanksgiving at my Mother in Law's, but this year hubby and I hosted it - with hubby doing the majority of the cooking since I'm on a very tight deadline and I'm hopeful to be done before Christmas. :-) I counted 3 times, but all I know is that we had somewhere over 30 people.
Here's the carving of the turkey...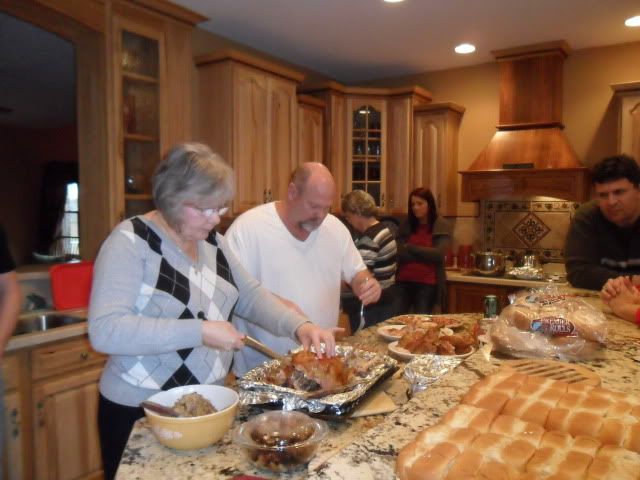 I'm not a Black Friday shopper, and in fact, I always finish my shopping early so that I won't have to be out and about in the crush. But one niece asked to spend the night during her school break (she's 13) and I'm taking another niece shopping so she can pick her own Christmas gifts (she's 11) and so... the girls stayed over after Thanksgiving for a Black Friday shopping trip.
Egads.

That's Mackenzie, me, and Katie. Fun girls!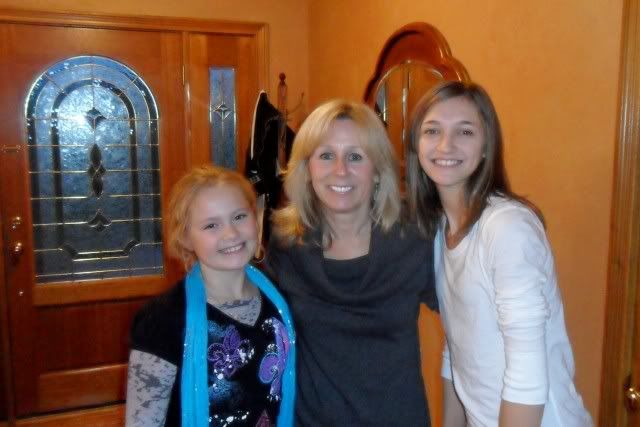 I LOVE to go shopping with the girl relatives. I have 3 sons, and a grandson, so I rarely get to buy girlie things. Normally I'm totally in for an all day spree. But with this deadline, and the holiday sales and madness... Oy. Under normally circumstances I'd never deliberately go anywhere near a mall on Black Friday.
But what can I say? I'm an awesome auntie. :-) At least, I hope that's how they see me.
My gifts are all wrapped, but since my tree isn't up yet, they're all stacked in my living room on the couch, the chairs, the floor... I'm betting that by the time I get the tree up (first week of December) the cats will have removed most of the bows and ribbons that I painstakingly attached.
Around finishing this book (please, please) I'm also taking part in a booksigning on Dec. 4th, 1:00 to 3:00 at the West Chester, Ohio B&N on the Streets of West Chester. If you're in the area, join me! I'll be giving away some goodies.

On the 17th, a bunch of us are meeting at Dianne Castell's (aka Duffy Brown) for a holiday gathering where we'll gab, share cookies and ornaments, and just plain have fun! (I'll share photos!)
On the 19th, I'm meeting for brunch with mega talented and super fun radio personalities Chris and Janeen - Married with Microphones. I listen to Chris and Queen Janeen every weekday morning while checking emails and drinking my coffee.
We'll have Christmas Eve at my house again. It's become a tradition and I wouldn't change it for the world. So much family, so much laughter, so much chaotic fun. Way more people than we had for Thanksgiving. I need a new house that includes a banquet hall. LOL
What about you? Any fun stuff planned?
Have you finished shopping? Not even started yet? Somewhere in between?
Do you have a tradition of going out on Black Friday, or like me, do you usually steer clear? What about for Christmas?
I'm going to give away 3 books - readers choice - to a randomly drawn name out of all posters. I'll pick the name on Sunday night, maybe 8:00pm Eastern or somewhere around there. (Give or take an hour or two.) Remember to check back to see if you won! Or feel free to leave your email address with your post and I'll notify you.
(Books of your choice must be books I have available from my own stash.)
Happy Holidays to all!
Lori
aka
L. L. Foster
http://www.lorifoster.com/